Clydach Gorge / Ceunant Clydach
 Clydach Gorge © Carolyn Jones
The beautiful Clydach Gorge (also known as Ceunant Clydach) is a steep-sided valley down which the River Clydach flows to the River Usk. It runs for 5.6 kilometres (3.5 mi) from Brynmawr in Blaenau Gwent to Gilwern in Monmouthshire. The gorge is a site of special scientific interest due to its unique industrial landscape and rock strata.
By the 17th Century it was becoming industrialised, the Llanelly furnace and forge had been established at Maes Gwartha and, by 1684, were producing quantities of iron and charcoal. By 1693 Clydach House had been built along with a number of workers' cottages. The Clydach Iron Works, founded before 1795, followed the recent introduction of coke as fuel and up until the 1860's employed over 1350 people many being children under the age of 13. The valley has the densest network of surviving early tram road routes anywhere in Britain.
Snippets of Information about Clydach Gorge
Ironworking, Tramroads and Methodists
This booklet on the archaeology of the Clydach Gorge has been reproduced and displayed here with the kind permission of Jeff Mapps of Costain.
---
View booklet…
Reminiscences of the Old Clydach Ironworks
Fairly recently,  in an early twentieth century edition of the Abergavenny Chronicle Eifion Lloyd Davies came across two articles entitled: 'Reminiscences of the Old Clydach Iron Works' and 'Neighbourhood' written by T. Jordan, of Govilon. These articles are essentially oral history rendered in print.
They are notable to the contemporary reader by their description of: – the locality and the ironworks; of the different social groups – the iron workers and miners; allusion to the Scotch Cattle, of how people built their own homesteads, and of the degree of co-operative self- help etc.
Eifion has produced an abridged and lightly edited version of the two 1910 articles by T. Jordan for our Journal (Edition 22). We have reproduced this article here for you to read free of charge.
---
View Article…
Section 2 – Eastbound drive through / Adran 2 – y ffordd arfaethedig tua'r dwyrain
Section 2 – Westbound drive through / Adran 2 – y ffordd arfaethedig tua'r gorllwein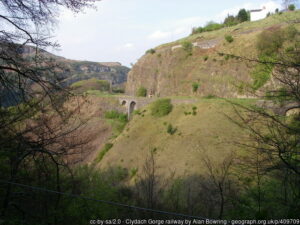 Starting in Llanfoist, this picturesque, traffic-free walking and cycle trail, runs high above the Clydach Gorge to Brynmawr.
It takes in some breath-taking views of the gorge, the Brecon Beacons, Sugar Loaf and Skirrid. Along this route, you will also be able to see the remains of the mining, quarrying and railway structures of Clydach Gorge's industrial past.
---
View route…