Our Current Journal – Published in November 2019
Editor – Dr. Colin Morgan
---
Born in Rhymney, Colin Morgan is a graduate of Aberystwyth, Hull, Cardiff, and the Open University. 
Since retiring from University teaching, he has pursued his passion for the local histories of Blaenau Gwent, for the Welsh language, and in translating nineteenth and early twentieth century Eisteddfod Welsh history essays dealing with Gwent.
---
Under Colin's editorship the scope of the Journal's content now relates to the historic Blaenau Gwent and not just the lesser area lying within the boundaries of the current County Borough of that name.
---
Colin can be contacted by email
colin.morgan879@ btinternet.com
BLAENAU GWENT HERITAGE
FORUM JOURNAL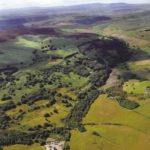 ISSUE NUMBER 24 – NOVEMBER 19
£3.00
CONTENTS
Editorial
Gunpowder Explosion at Brynmawr – Eifion Lloyd Davies
Archaeology of Upland Gwent, A book review – Colin Morgan
Cleaning the Chapel, Poplar Road Congregational, Tredegar – Kenneth Davies
F. J. Ball. 1914-1986, A dedicated Ebbw Vale Local Historian – Colin Morgan
Gallipoli, A Blaenau Gwent Boy's WW1, Richard Evans of Rhymney – Kenneth Price
Tredegar's Smallest House –  Phillip Prosser
The Blaenau Gwent Society of "Dynolwyr" their aims or manifesto – Colin Morgan
Penuel Baptist Chapel, Rhymney – Terrence Harding
Rhymney Penuel Chapel & the huge 10th Century Baptism debate, "Dippers" versus "Sprinklers" – Jeff Darkins
Tredegar Medieval Brooch – Phillip Prosser
Website Update – Carolyn Jones
The Contributors to this Journal